Harmon's Safety Covers Installation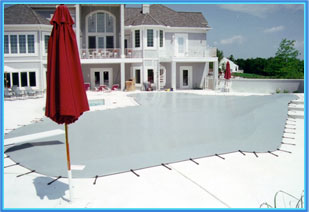 Ensure Yourself a Peace of Mind


Safety covers are a must for swimming pool owners, particularly for families with children and/or pets because they prevent kids and pets from entering the pool when they are not supervised. In addition to providing you with a peace of mind, safety covers are an effective method to protect your investment, save you money, and to keep maintenance costs low.

Safety covers provide additional protection to your pool walls and base during bitter winter months. Covers retain heat and your pool-heating system will require less energy to keep a certain temperature. This will keep your energy bills low. Safety covers also reduce your efforts to keep the pool clean by preventing debris, leaves, and other organic materials from falling in the pool. Organic materials can contaminate the water which can pose health hazards to you and your family.



If you live within the Springfield, Mo. area, and would like us to install your cover, feel free to give us a call at (417) 882-1411 or fill out the contact form.